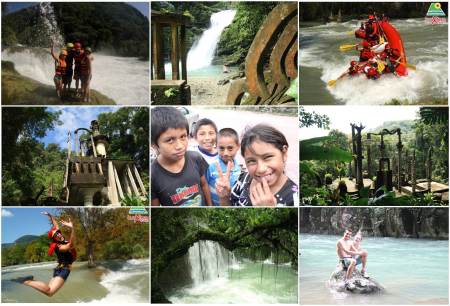 La Huasteca Potosina – a Mexican gem so well hidden a lot of Mexicans don´t even know it. Including largest travel guide book publisher Lonely Planet doesn´t mention this ecological paradise. La Huasteca Potosina is located 400km north of Mexico City off the beaten track in dog-shaped state San Luis Potosí.
Key activities: Outdoor adventure and exploration. Think of swimming in rivers and jumping off waterfalls, white water rafting and cliff rappelling, caves with millions of swallows and – the icing on the cake – a surrealistic castle concealed in the jungle. It´s a fascinating area much easier to explore independently than one would initially think.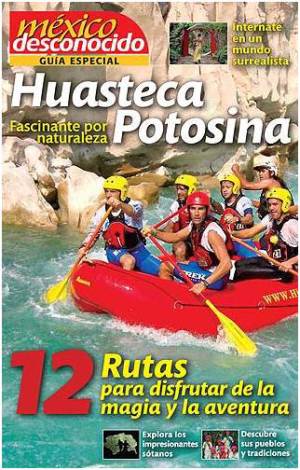 From my colleague Mitchel I borrowed the Huasteca 2009 edition of magazine México Desconocido which turned out to be the most useful guide around. Based on the magazine we organized a trip of 4 days and 4 nights but you can definitely stay longer if you like. Scroll down for detailed travel information and maps.
La Huasteca Potosina for Independent Travelers
Things to consider before heading out:
Best Time to Visit
The best time to visit La Huasteca Posotina is during the dry season (December – April) when the water is beautifully turquoise, all roads are accessible and rafting can be done on the Tampaón River (level 3). We made our trip in October which is still rain season. Fortunately the roads were all open, however, the water wasn´t as pretty as usual, we couldn´t enter the water at Puente de Díos and we went rafting at the Micos River (level 2). Note that during the winter months (starting mid-November) the water temperature significantly drops. March and April seem to be the absolute best months to visit la Huasteca Potosina.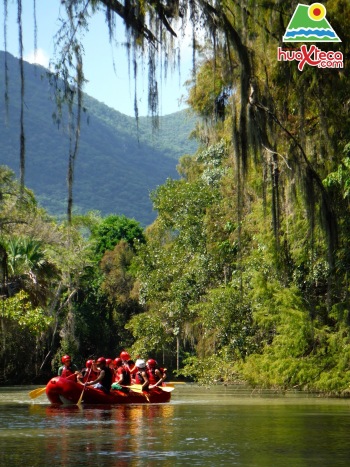 How Many Days to Visit
La Huasteca Potosina is quite big with lots to see and do so you probably have to make a selection of places to go. We decided for 4 days and 4 nights and saw roughly 60% of what the Huasteca has to offer. This indicates the large size of the area. We were very satisfied with our journey but would definitely come back some time to explore the remaining part. A visit of less than 3 days is probably not worth the long journey.
Independently vs Tour Operator
In general you can easily travel the Huasteca Potosina without tour operator (except for activities such as rafting and rappelling). We went by car, chose are own hotels and hired local guides whenever we felt like it. In the end we were very satisfied with the knowledge and expertise of the local guides at the Edward James Castle, Puente de Díos, Swallow Cave and Micos River for waterfall jumping. The guides have either fixed fees (100-250 pesos) or leave the contribution height up to you. If you decide to go rafting and rapelling it´s necessary to book your tours in beforehand for professional guidance and equipment.
Three tour operators in la Huasteca Potosina: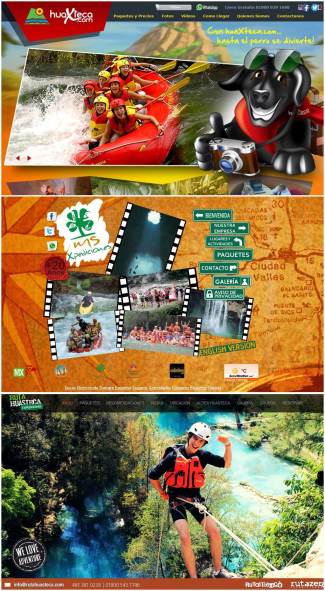 Visiting La Huasteca Potosina 4 Days – 4 Nights
Hitting the road! Since la Huasteca Potosina is ca. 7 hours driving from Guadalajara we split up the drive into two parts. We spent the first night in San Luis Potosí, from there it was only 2.5 hours till the first waterfalls Puente de Dios and Tamasopo. If you come from Mexico City it´s closer to drive directly to Xilitla and start your journey at the Surrealist Sculpture Gardens.
Day 1
San Luis Potosí
Waterfalls Puente de Dios
Waterfalls Tamasopo
In San Luis Potosí we walked around the zocaló and had breakfast at cheap and delicious Café Cortao. For new visitors the owner even gives personal recommendations based on their likes and dislikes. Incorrect opening hours circulate on the Web, these are the right ones: Monday till Friday 8:30 – 13:00 and 18:15 – 21:30. Saturday 9:30 – 13:30 and 18.15 – 21:30. Sundays Closed.
From San Luis Potosí we entered the Huasteca and drove to Tamasopo, a tiny town receiving mainly tourists for the waterfalls of Puente de Díos and Tamasopo, two peaceful places quite different from each other. The shallow water at Tamasopo is always accesible. Puente de Díos, located next to the old rail station, is closed for swimming during the rain season. There is, however, a small river to cool down. A fine start of our journey we thought.
From Tamasopo it´s about 50 minutes to Ciudad Valles, the capital of la Huasteca and home base for many tourists. We had dinner at restaurant La Leyenda and tried zacahuiles, typical Huastec tamal. From Ciudad Valles it was one more hour till Xilitla. *Try to avoid driving by night because there are hardly street lights on this road.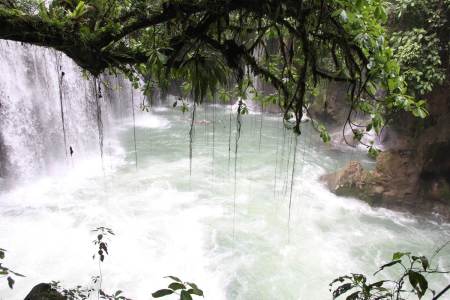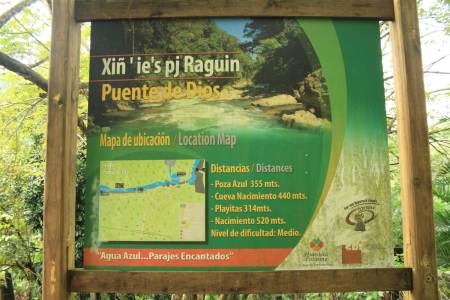 Day 2
Edward James Surrealist Gardens
Cave of Swallows
Xilitla, where nature and one creative mind met and led to a magical world: the Surrealist Gardens. This precious place, also called las Pozas (the Pools) or el Castillo (the Castle), was the creation of eccentric English poet and artist Edward James.
Piece by piece he created a surreal world full with ca. 200 whimsical objects. The local guides (200 pesos) can tell you about the castle´s history and they point out all the random details. Entrance: 50 pesos.
We expected to need 1 hour to walk around this Jardín Surrealista, but it´s much bigger and more fascinating than we thought. At some point I felt like walking in one of Escher´s drawings! In the end we stayed 3 hours. We chilled at the waterfall and pools and took many pictures. It´s an amazing place for photographers such as my friend Romina. Have a look at her shots: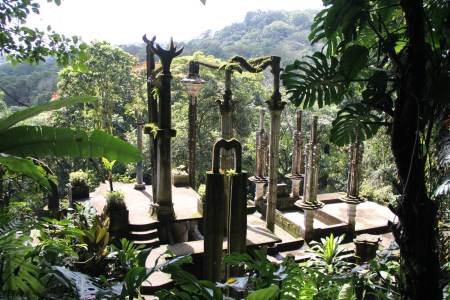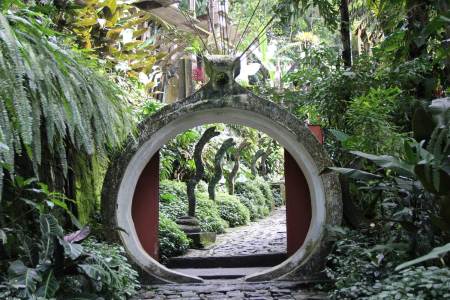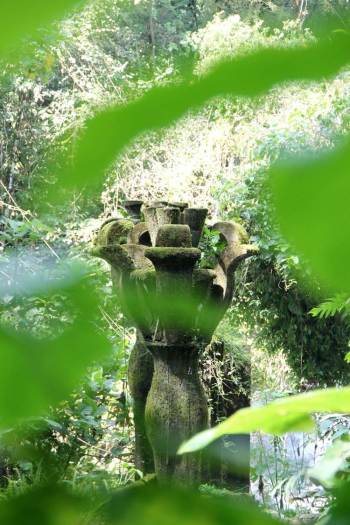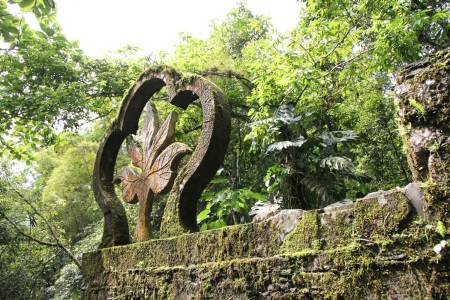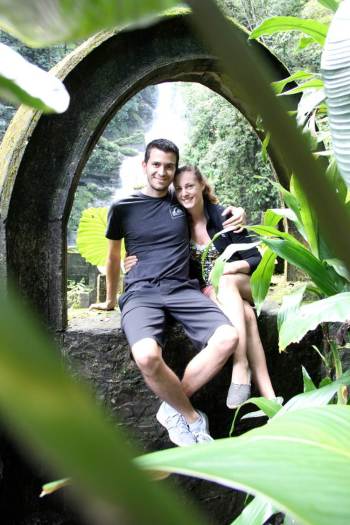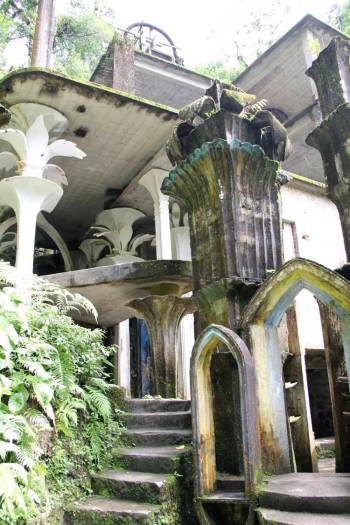 For more photos of Romina and her partner Ale check their Facebook Page: AleRominaFotografia
If you want to know more about the Surrealist Gardens of Edward James, check this 8-minute Documentary of the BBC Series "Around the World in 80 Gardens".
The day had started so well already but there was more to come. We had lunch at Restaurante Cayos in Xilitla and from there we left to see one of the two Caves of Swallows. A deep pit cave so big a skyscraper could easily fit in!
El Sótano de las Golondrinas is home to 8 million swallows (the swallows are in fact not really swallows, I forgot their real names) who return every evening at sunset. They circle above the cave, suddenly pull in their wings and free-fall so fast you can only hear them. They´re really difficult to catch on camera. A natural spectacle that gets better the darker it gets.
At dawn this natural site must be even more impressive. If you don´t mind getting up early, chose to visit the Sótano de las Golondrinas before sunrise when the swallows come circling up to start the day.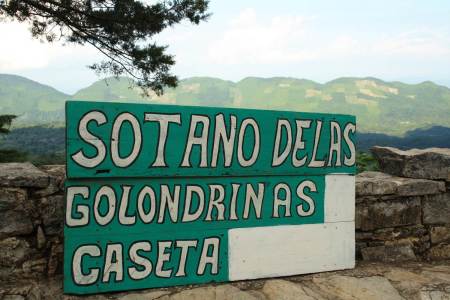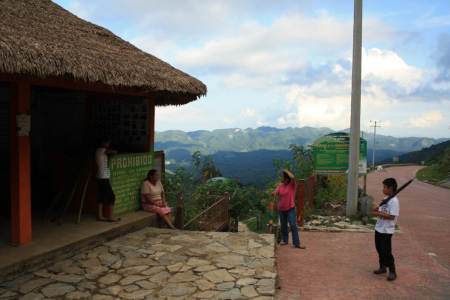 It´s one hour driving from Xilitla to the Swallow Cave (turn left at Aquismón) and you need another 20 minutes to walk down the stairs till the edge of the cave. Entrance: 30 pesos. From the Swallow Cave it takes about 75 minutes to return to Ciudad Valles.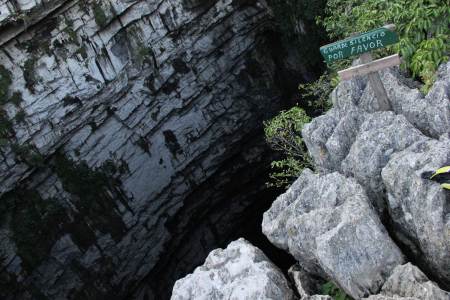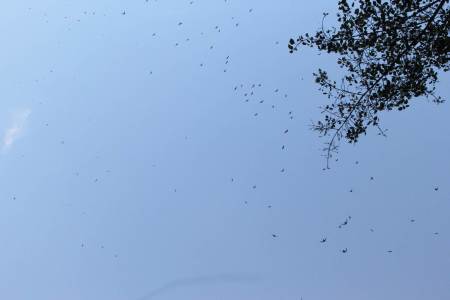 Day 3
Time for some action! We chose the adventuralists of HuaXteca for a day full of adrenaline. HuaXteca has excellent chat support via their website and they respond quickly by mail and phone. But above all their rafting people know what they´re doing and they´re good fun to spend the day with, never a dull moment!
Rafting + Lunch: 650-850 pesos (price depends on group size).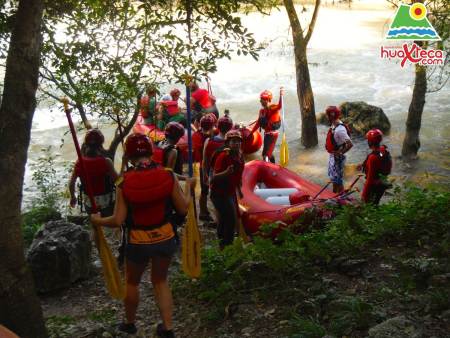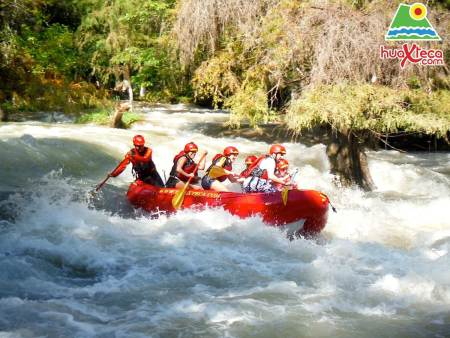 After completing the register at the HuaXteca office they took us in a mini van to the Micos river. The rafting took ca. 5 hours (10:00 to 15:00) including equipment check, explanation of basic rules, peddle try out in calm water and jumping off rocks. People who can´t swim or can´t swim well can also come along, they receive a different color helmet to be easily recognized.
Note: If you bring a GoPro make sure to use a helmet with screw-fixed support. Glew-fixed supports are too fragile for this type of activity. We learned it the hard way and lost our GoPro so be warned.
Day 4
Waterfall Jumping at Micos River
We concluded our journey jumping off waterfalls, my favourite activity! There are 7 consecutive waterfalls at the Micos river and as soon as you jump off the first one there is no way back, yikes! The waterfalls count different heights in between 2 and 8 meters. Due to heavy rainfall the river current was quite strong and it was already an adventure to get to the edge of each waterfall.
The Micos river is only 30 minutes away from Ciudad Valles. The entrance cost is 30 pesos and the guide for el Salto de Cascadas charges 150 pesos per person. The guide is indispensable though. Without him it´s too dangerous and they won´t let you jump. The guides provide hemets and lifesaving jackets.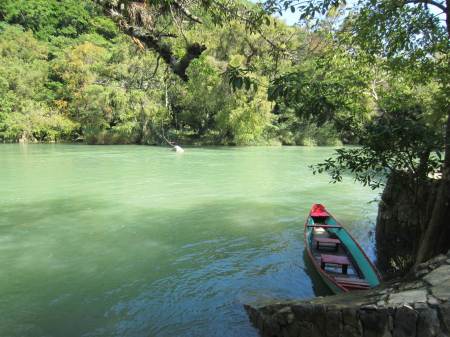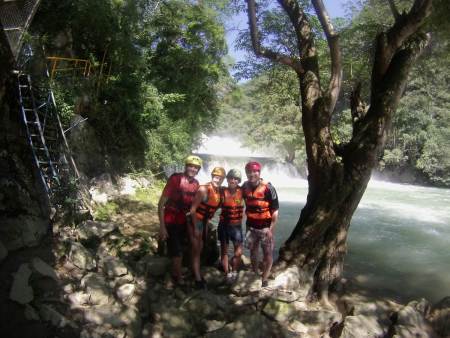 La Huasteca Potosina Orientation
I hope my story inspired you to hit the road and explore the Huasteca Potosina yourself one day. It will be worth it! If you have any questions, don´t hesitate to write me in the comment section below or send me a private message. I´m always happy to help out!
Our 4-day Huasteca Potosina journey: